In-situ cast reinforced concrete panel walls with one sided formwork, supported with prestressed anchors are applied from top to bottom parallel to excavation.
In this shoring system, pre-stressed anchorages are construced with reinforced cast in place concrete panels parallel to the excavation in stages from top to bottom. It can be implemented in various thicknesses; typically ranging from 20 cm to 50 cm, depending on factors such as excavation depth, environmental loads, soil conditions, etc.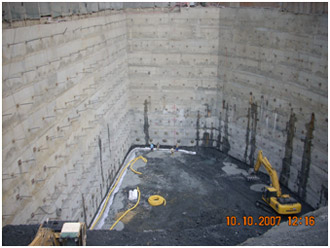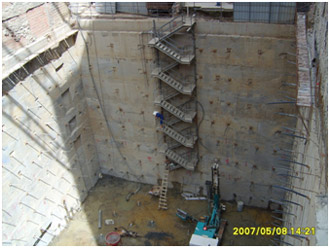 It is usually implemented when the thickness of shoring system is located in limited, and when there is no ground water in the form of free ground aquifer. It has relatively slow construction rate compared to other shoring systems, because of the fact that it needs time at every stage for the concrete wall to set and reach to design strenth in each level.
Reinforced concrete elements can also be constructed as vertical manual caissons under appropriate conditions.